VOTED AS #1
MOST STABLE TOW DOLLY BY
About Trailer-Tug
The most unique Patented Trailer Dolly on the market.
Tow handle comes off to leave a 20" x 24" foot print. Allowing the TRAILER-TUG to be transported in any trunk, back of SUV, or truck to go with you when picking up your trailer. Frame is 1/8" thick cold rolled steel, mig welded, and powder-coated.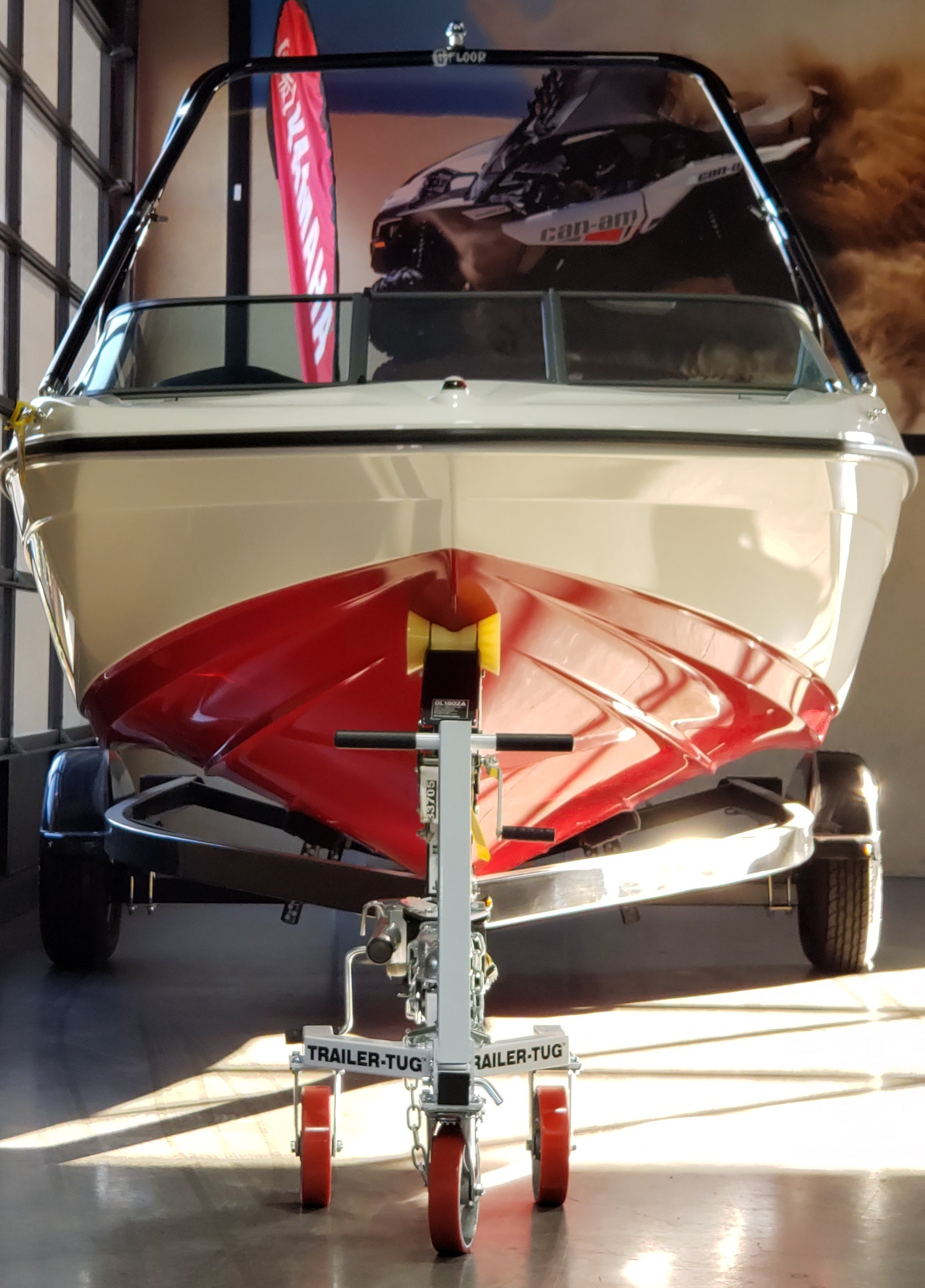 WHERE TO USE

Actual Customer Reviews
Does the job with our boat and tricky driveway.
Needed a trailer mover for our boat. Our driveway slant and design make it difficult to back the trailer into the garage. The mover works so good that my wife and I move the boat with no problem. Be safe anytime moving your trailer, have wheel chocks ready. Well made mover, make sure to read all instructions!! Especially mounting of the bal.
Joe H. Cota
Perfect for tight spaces.
I needed to get my 18 foot RV along side my garage. I couldn't maneuver the RV with the truck attached. After some research I came upon this. I was able to move the RV (3500 pounds) by myself fairly easy. Would be even easier if you had someone else do the pushing. The RV is a flat surface with pavers. Assembly was a breeze which is a plus, and this is built very sturdy. I would recommend.
Craig Smith
Great product
We store our VR5 Bayliner on gravel. This product works fine. The manufacture did not have the hinge pin in the box. They sent a replacement within 7 days.
Stacy T.
Perfect
Bought this to move our trailer in a narrow driveway. This makes it so my husband doesn't have to fight with backing the trailer in our nArrow driveway and gate to the garage. Very happy with this purchase
Kansas Mom
The perfect solution for moving your trailer!
Tried a variety of things on different trailers, and they're all different. Retractable/fold down wheel - not sturdy enough, smaller trailer dolly - not sturdy enough...... BUT Trailer Tug? Ready for the task. Heavy duty tubing, large casters - all of it is well engineered and extremely tough. I'm glad we spent the money on this dolly - easy to operate, safe and I can tell it will be long lasting. Handle could stand to be a little longer, but it's easy to operate as is.
Original Parts Group,Inc
Works as advertised on asphalt.
We use this for moving trailers at our rental shop. All the trailers are on asphalt and so far it has done the job with out problems. It is as others have said much better for pulling than pushing but we do both as we pull the trailers out of stalls and push them into other stalls. It so far appears overbuilt and can handle heavy loads. None of our trailers have that heavy of tongue weights nor are they that heavy. Very happy with it so far.
Live2Play
Great for 3,000 pounds.
Was easy to put together. Worked perfectly to maneuver my 3,000 lb trailer into it's space. One man moved it easily. The plastic wheel covers won't last in the sun and weather, so I covered them with a tarp. Assembly and movement would be easier with two people, but not necessary.
C. Chavez
Durable and maneuverable!
Great product for moving our wakeboard boat in and out of the garage. Turns easily, easy to pull/push and the heavy duty wheels (no air required) are perfect for our needs. Highly recommend!!
Pen Name
This is a great way to move things!
I really love this Trailer Tug! It moves my big boat around with ease!
Rilia
Great Seller
The company that sells this is extremely responsive and helpful. Product is easy to assemble and works well on flat surfaces. I wouldn't use it on hills up or down
Carley Barber
FREE U.S. SHIPPING*
Special financing and support available.
LIFETIME GUARANTEE
Hassle-free return policy.
excludes used products
SECURED PAYMENTS
We accept all major credit cards.
Follow us on Instagram
@trailertug